11 August 2018
Hadong, City of Healing
A beautiful and time-honored town with Mount Jiri-San dominating the skyline magnificently.
Two hours away from Gimhae International Airport, Busan, Hadong is located in the far west of Gyeongsangnam-do, the far south of the Korean Penisula. You can find the Cherry Road meandering along the Seomjingang River in spring; fragrant tea fields creating picturesque landscapes; and, above all else, Jirisan Mountain which is Korea's number one national park. Let's see what visitors can expect in Hadong, the city of healing.

Nature

Mount Jiri-san
Mount Jiri-san is Korea's first national park. Jirisan mountain is one of the most, if not the most revered "sacred mountain" in Korea. The mountain features a tall, imposing figure with lush forests and rough terrain comparable to undisturbed primeval rainforests, creating breathtaking landscapes.
Seomjin-gang River
Widely regarded as one of Korea's most beautiful and clean rivers in Korea. Seomjingang River is loved for its large, unpolluted white beaches that make a charming contrast with the blue waters. The white sandy beaches scattered along the river provide a load of popular getaways for Korean holidaymakers.
Hallyeo Marine National Park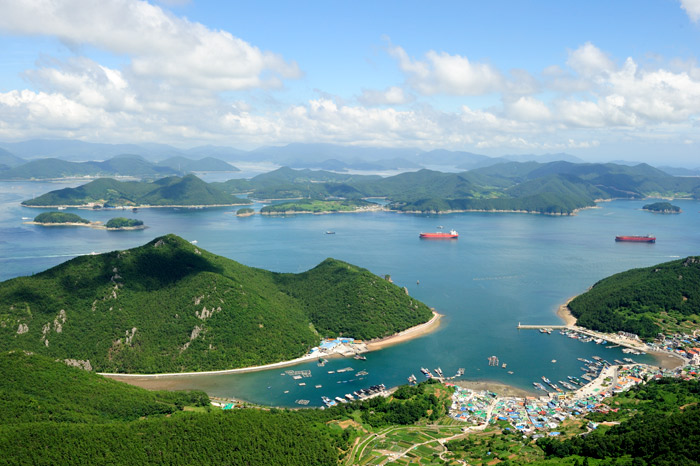 Image from korea.net
This coastal area attracts over a million visitors every year with its breathtakingly beautiful landscapes created by the seas, islands and coastal peaks and valleys. The waters off the coast boast water temperatures and quality that are well-suited for habitations for a variety of fish species, attracting anglers from all over Korea.
Simnibeotkkot-gil (Simni Cherry Road)
This road is also called Hollyegil or "Wedding Road", because it is believed that couples who walk the road together will have a happy marriage. The road is lined with cherry trees standing on the both sides, forming a tunnel of white cherry blossoms every early spring. The green fields surrounding the road create spectacular landscapes and a striking contrast with white cherry blossoms.
Samsunggung Palace
Samsunggung, also named as Three Sages Palace is a shrine for traditional worshipping of three mythical founders of Korea: Hwanin, Hwanung and Dangun Wanggeom. The architecture of the main shrine hall is unique in itself being constructed in the shape of an arc. It is not crowded with people so you can enjoy the amazing stone towers, exotic structures and scenery.
Hadong Forest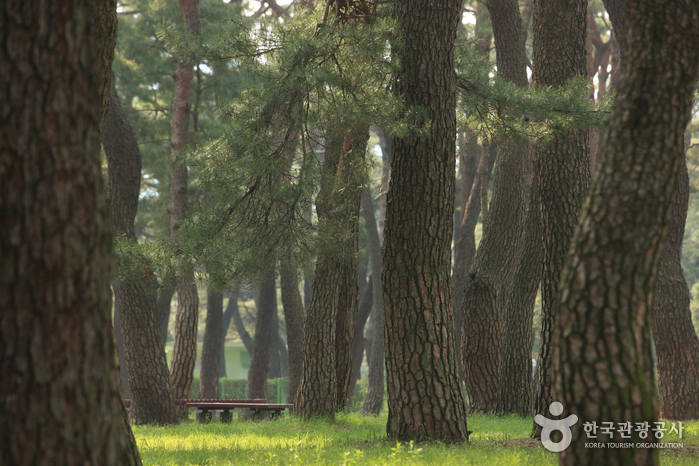 This recreational forest, widely praised as "a space for healing the mind and body", is famous for beautiful landscapes in and around it. The area contains attractive trails and exciting recreational facilities such as a zip line and monorail that allow you to enjoy the beauty of the forest.

Traditional Cultural activities

Temple stay

The Ssanggyesa Temple is a historic Buddhist temple established in 723 and is famous for the natural sceneries surrounding it. This temple also operates three types of temple stay programme which focused on rest and refreshment, cultural experiences and a half-day tour designed to help participants escape the hurly-burly of everyday life.
Green Tea Experience
Visitors can head to Hadong Tea museum that offers an opportunity to increase their understanding of the history and cultural influence of tea farming in Hadong. Visitors can participate in the cultural experience programme held at the nearby Hadong Tea Culture Center which provides activities such as picking tea leaves, roasting harvested tea leaves and tea ceremony.
Pottery Experience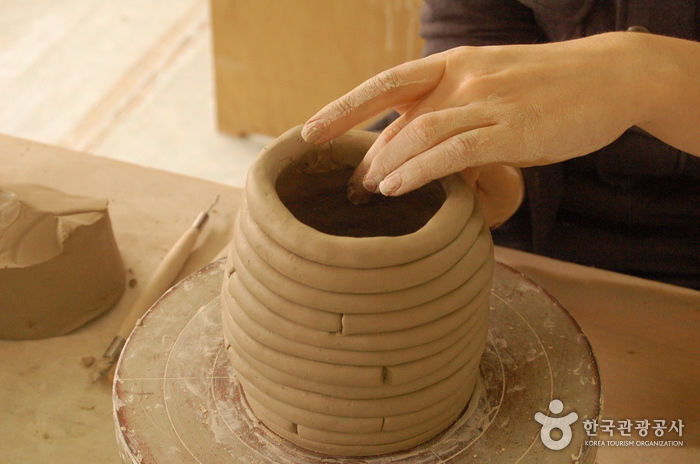 Designated as the Areum Maeul in 2002, Sagi Areum Village is famous for traditional Korean team bowls praised for their delightfully simple beauty.

SHOPPING
Hwagaejangteo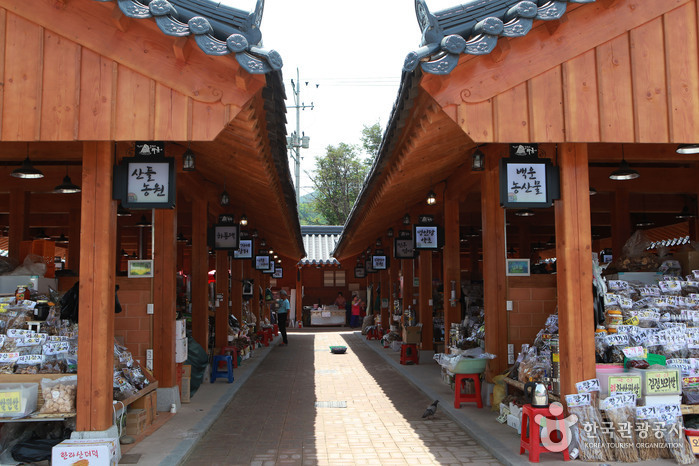 Hwagaejangteo refers to historical marketplace where the market was set up once every five days for the people in the villages scattered along the Seomjingang River. The historic marketplace still contains various aspects of the old village market.
For more information please visit to http://www.hadong.go.kr/english.web